PEOPLES OF SHAN STATE
Life in Myanmar is pretty basic, and food hygiene is not a national forte. It isn't surprising, therefore, that a significant proportion of visitors who come to Myanmar get sick. Last night I joined their ranks…. Dinner really did not sit well, but luckily we came prepared. We learned on our first big trip around the world to come prepared with a few basic medical supplies, especially for developing countries like this. A good dose of loperamide and antibiotics, and I was at least well enough to travel this morning. Which is just as well, because we had a morning flight from Bagan to Heho today!
Heho is in Shan State, on the Eastern side of Myanmar. It's a sizeable town up in the hills, above Inle Lake – our destination for the next few days. Not that we're staying in Heho – we want to be close to the lake and so drove straight down from the airport to Nyaung Shwe, our home-away-from-home for the next few days. The landscape here is so different to Bagan and the Western side of Myanmar. It's so much greener here, and for the first time since we arrived in Myanmar, we even saw rice paddies on our drive down to Nyaung Shwe.
Nyaung Shwe is a small township of about 180,000 that hosts most of the tourists that come to visit Inle Lake and the Inle Lake Wetland Sanctuary. There's not much here – the town itself consists of one main street with a few side streets branching off. It's charming in its own way, however, and we had a nice morning strolling the streets of Nyaung Shwe and visiting a couple of the local sites.
The main historical site in Nyaung Shwe is the Shwe Yan Pyay Monastery, which dates back to the early 19th century and was made famous when it appeared on the front cover of a recently published Lonely Planet Guide.
Shwe Yan Pyay Monastery is just a short walk North of Nyaung Shwe town and is well-known by photographers for its unique oval-shape windows. The monastery has a beautifully carved, gilded ceiling and is still in use, which gave us the opportunity to quietly sat and watch as the current group of novices completed their studies for the day.
Just next door is the tiny Shwe Yaunghwe Kyaung temple. This pagoda is unique for its mosaic-covered interior and thousands of Buddha images, each in its own niche. The mosaics tell the story of Buddha's life in tiny vignettes.
Beyond these 2 religious sights, there wasn't much else for us to explore in Nyaung Shwe. Except, as always, the market. And so we went for a stroll through the market place!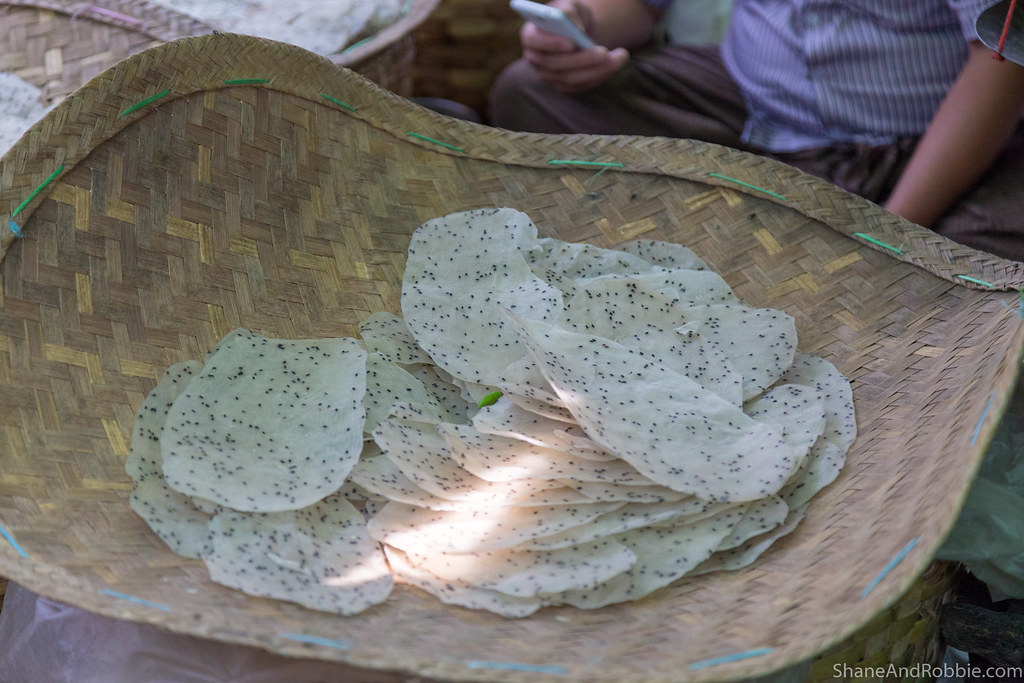 The most interesting thing about the market in Nyaung Shwe was the diversity of peoples we saw there. Myanmar is home to 130 ethnic groups, and this part of the country is home to a wide variety of tribal groups. The population of Shan state consists predominantly of Shan people, with a mix of Intha, Taungyo, Pa-O, Danu, Kayah, Danaw, and Bamar* ethnicities. Each group has its own unique style of dress and culture, though all are Buddhists.
*The Bamar people are the dominant ethnic group in Myanmar. Bamar people live primarily in the Irrawaddy River delta region (e.g. around Yangon) and speak the Burmese language, which is the official language of Myanmar.
Shane state borders Thailand, Laos, and China to the East, and the Shan people are found all across this part of Myanmar, Northern Thailand, and Laos. The Shan people are believed to have migrated to South East Asia from Yunnan (China) in the 10th century, and the Shan Kingdom was established in this region in the 11th century. It was eventually subsumed into the Pagan Empire and, later, modern Myanmar, but vestiges of the Shan Kingdom remain all over this region – including the Shan language and traditional dress. Most Shan speak the Shan language and are bilingual in Burmese; and, as we saw today, Shan men wear baggy trousers made of a coarse homespun fabric; whereas the women wear sarongs paired with long sleeved blouses. To protect themselves when working in the fields, Shan people wear bamboo or straw hats
Also numerous in this region are the Pa-O people, who migrated to this fertile region from Tibet some 3,000 years ago. Known for being industrious and outgoing, the Pa-O traditionally farm the steep slopes ohighland regions to the east of Inle lake, growing onions, garlic, chilli, potatoes, chickpeas, peanuts, beans, sesame seeds, and green tea. Pa-O traditional dress is highly distinctive, with the women wearing plain black or indigo tunics with narrow blue and/or red trim and brightly coloured turbans wrapped around their heads, mostly in orange and red.
We also saw some Kayan Lahwi women weaving and selling their woven materials. Instantly recognisable, women from this ethnic group wear brass rings around their necks. Girls first start to wear rings when they are around 5 years old and, over the years, more and more coils are added. The weight of the brass gradually pushes their collar bones down and compresses the rib cages, making their neck look longer. Worn now as a mark of beauty and wealth, it's believed the practice of wearing neck rings began as a way of dissuading slavers from kidnapping Kayan Lahwi women. To earn money and help support their families in the highlands, many Kayan Lahwi women move to touristy areas like mandalay, Bagan, and Inle Lake to weave and sell their traditionally, brilliantly coloured tunics.
Our jaunt around Nyuang Shwe was enough to wear me out, so we went back to our hotel and I slept off the last remnants of my tummy bug. Around 4pm, however, we were pulled from our state of restful relaxation by the sound of thumping dance music, drums, and crowds cheering. We had to see what was going on! What we found was a major street party in full swing! There was music, dancers, and even an elephant dance (i.e. a lot like a Chinese lion dance, just with an elephant costume). Seems we had stumbled across the novitiation celebration for the youngest son of one Nyaung Shwe's most prominent citizens. It was so much fun, not only watching the street parade itself, but also the peoples' reactions. We even got to join in the feast put on by the family for the whole town. The rule, we found out, is that if you can hear the music, you're invited to the party!